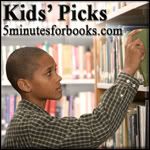 Click above picture for more details


It's another third Tuesday, which means it's time for Kids' Picks.


What are your kids reading? What have they loved? What would they recommend to friends or other children their age?
He is hooked on these still, and that is fine with me, in fact I am taking him to the library when he gets out of school today.
'J' has been into Dh and I reading him Transformer, and Star Wars books later. He is trying so hard to be big like his older brother. It is weird seeing him like all of the more grown up boy stuff.
As for Baby 'M', I have read the same book 4 times already today, don't be jealous when I tell you what it is.... promise?? Okay, hold on to your seat....
Bedtime for Baby Bop .
Baby 'M' is the only one of my kids who is hooked on Barney. I have grown a lot since having my first. Barney looks like a Saint compared to other cartoon characters.
Until next time...
Happy Reading