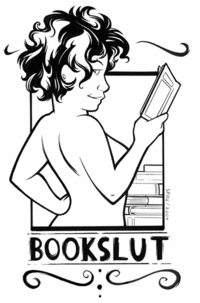 This post marks my 100th post as your resident Crazy Book Slut. This blog made it's first apperance on the web late November and here we are in February and marking the 100th post. Not bad, if I do say so myself!
So here is what we are going to do to honor me... the Crazy Book Slut!!! I am going to host a giveaway. Aww go ahead tell me how wonderful I am, I'll wait...........................................
I bet right about now you are wishing I would tell you what I was giving away, huh? Well that is the fantastic part of this giveaway. It's your call what I giveaway... do I have you attention now?
Your job, should you choose to take it, is to look back at all the books I have read, reviewed, or done a Wild Card on, and tell me which one you would like, and I will buy you your own very copy of the book. Only one book though, you have to pick!!
You can find the lists of the books on the right hand side of my blog under reviews.
* One entry ( and this one is a must) is to tell me what book you want
* One entry for following me on twitter
* One entry per tweet you give out while the contest is going on ( limit 2 a day, let's not get carried away)
*One entry if you follow Crazy Book Slut
* One entry if you post Crazy Book Slut's button on your blog
*Five entries if you post about this contest on your own blog ( leave 5 seperate comments for this)
Please make sure to leave each of these are an individual comment! Giveaway is opened only to the U.S. and this time!
Contest ends one week from today... February 24th at Noon, California time.
Big thanks to everyone who has helped me get the Crazy Book Slut up and running, here's too many more fun times with books!!
*** if the first entry is not followed, all other entries will be deleted**

Until next time...
Happy Reading!